Certification
Since 2007 Martin Luck Metallgießerei GmbH has been certified according to DIN EN ISO 9001: 2008 for the production and processing of metallic castings (Registration No. 01 100 071369). Test certificates such as chemical analysis in accordance with "Plant Certificate 2.2 according to EN 10204: 2004", "Inspection Certificate 3.1 according to EN 10204: 2004" with yield strength, tensile strength, elongation at break and Brinell hardness value, and optionally surface crack inspection with dye penetration, ultrasonic testing, heat treatment and dimensional checks etc., prove the constant effort to work qualitatively at the highest level. Chemical analysis of the melt is determined with our spectral analyzer on each batch from the furnace.
The quality management system is subject to a continuous improvement process (CIP) in keeping with our philosophy of striving for the highest quality possible.
Further Education and Competence Development
Our employees regularly take part in further education measures via the VDG Academy (VD Guss – Association of German Foundry Professionals e.V.) in order to meet the high quality and special requirements. For more than 50 years, the VDG has been the contact person for specialist qualification within the foundry industry.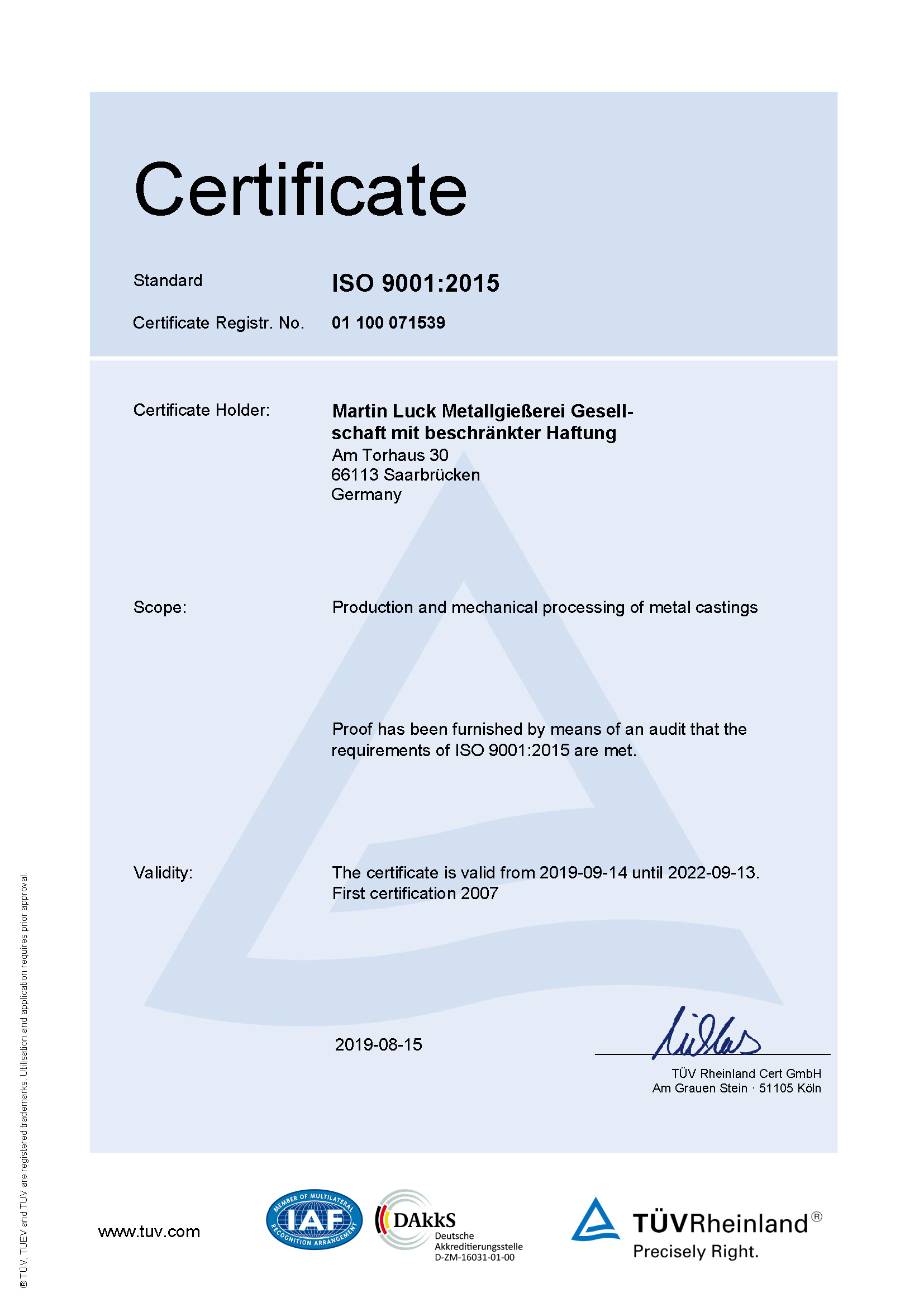 Fit for Industry 4.0
Since January 2016, Martin Luck Metallgießerei GmbH has been one of four partners in the project funded by the European Social Fund (ESF) on »Individual and Organizational Resilience for the Working World of Tomorrow«.
The project consortium consists of:
IAD – Institute of Occupational Science at the Technical University of Darmstadt

IFAA – Institute for Applied Ergonomics

College Fresenius

IW Cologne – Institute of German Economics
The funding program of the BMBF is called: »Preventive measures for the safe and healthy work of tomorrow«: http://www.bmbf.de/foerderungen/24101.php
A work-science-based organizational and personnel development concept on the topic of "Resilience of people and companies for the working world of Industry 4.0" is being developed and tested in four companies over 30 months and improved. The project is called: »STRENGTH – strong employees and strong companies through flexibilization and improved ability to change with resilience concepts on an individual and organizational level«, resilience of people and companies for the working world of Industry 4.0.
REACH-SVHC Regulation – Lead
In accordance with Article 33 of the REACH Regulation, we hereby inform you that the non-ferrous metal semi-finished products we supply contain a substance from the REACH Candidate List (SVHC), namely lead.
| | |
| --- | --- |
| CAS Number: | 7439-92-1 |
| EC Number: | 231-100-4 |
| Recorded: | 08/17/2018 |
For this purpose, we have listed the affected alloys (lead content> 0.1%) of our product portfolio with the respective concentration of lead and made it available for download in the attached document.
In addition, we would like to clarify that the use of lead in non-ferrous metal semi-finished products has been regulated for many years and the obligation to provide information under REACH is not based on new scientific knowledge about lead.
The substitution of lead in many copper alloys is currently not practicable. Lead acts as a chip breaker and lubricant, improves the machinability of the alloys and is responsible for specific properties of the finished component, eg. corrosion resistance. Lead also improves other properties, in particular the slip properties of the materials.
Feel free to contact us if you have any questions.
Our delivery program with the respective concentration of lead (pdf, 90 KB)